FAQS
Questions for Smartstitch embroidery machine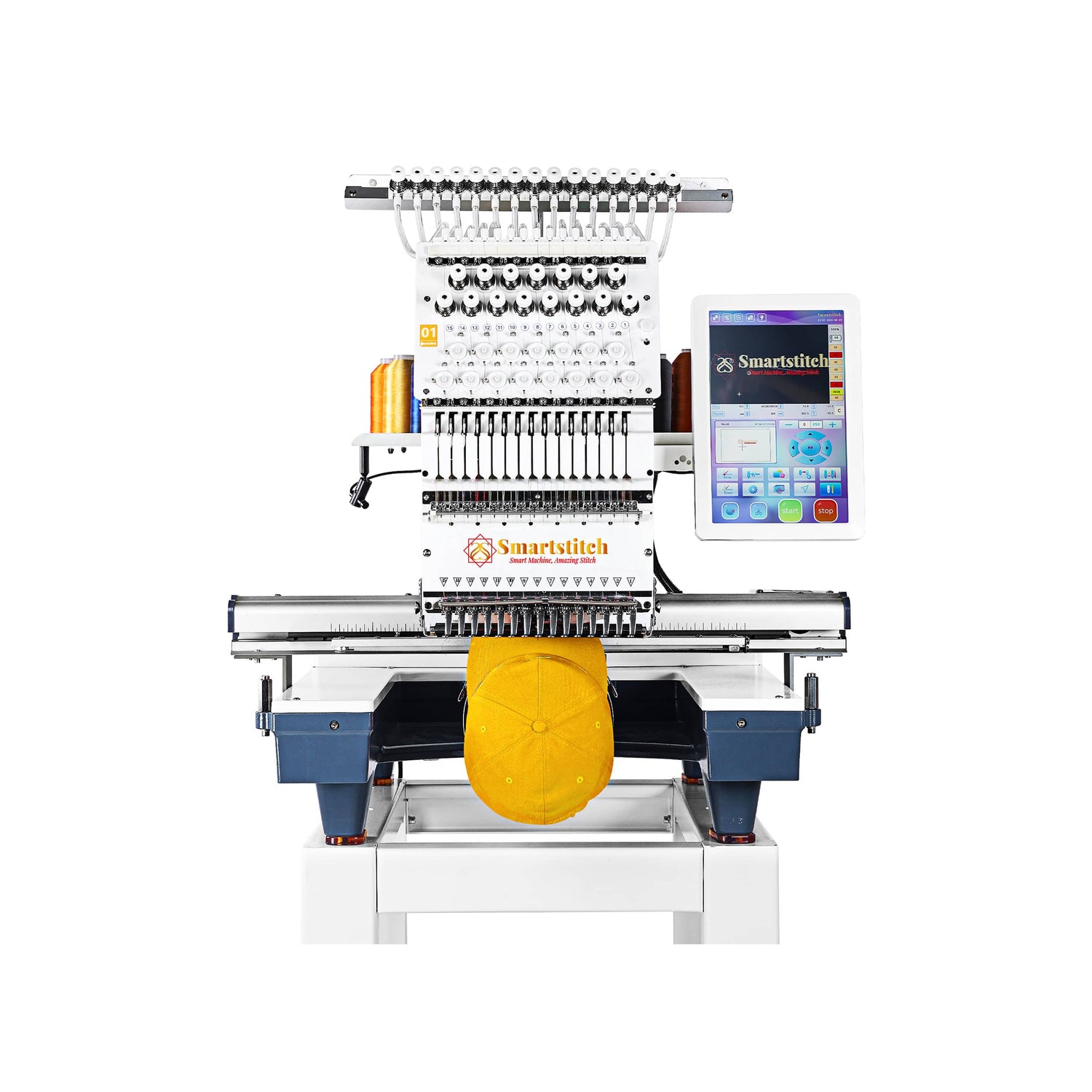 How difficult is the embroidery machine to operate?

Our embroidery machines are designed with user-friendly interface, easy and convenient to operate. Even without embroidery experience, users can quickly start operating our machines. We also provide detailed operating manuals and training support to ensure users can use their machines to their full potential.
What file formats and design software does the Smartstitch embroidery machine support?

Our embroidery machines support common embroidery file formats, such as DST, DSB.We suggest you can make your designs using Wilcom, EmbroideryStudio and Hatch and transfer designs to DST formats, so that our machine can identify your designs easily.
What's included?

1.T-shirt embroidery frames 2. Cap embroidery device 3. Flat embroidery device 4. Bobbin winder 5.Toolbox 6. A stand 7. Other Accessories 8. Manual 9. Starter Kit
Do you support financing?

Yes, we offer financing options for our customers. We understand that purchasing a embroidery machine can be a significant investment, and we want to make it more accessible for you. Our financing options can help you spread out the cost over time, making it easier to manage your budget. Please contact our sales team.
What's the address of your USA warehouse?

13817 Greenland Dr, Stafford, TX 77477

728 W Rider St Perris, CA 92571,United States

3585 S. Church St. Whitehall, PA 18052
Do you support self pick-up and home delivery?

Yes, you can select your preferred delivery method, and our team will provide further instructions and details accordingly.
What do I do when my machine needs servicing?

When you encounter minor issues, our team is just a call away. Through video or video conferencing, we will guide you step-by-step to fix the problem efficiently.

For complex problems, our technician is ready to visit your location for on-site repairs.
What kind of support do i get from Smartstitch?

Free online training; free technical support; free support and maintenance videos, free FAQ online. Before you purchase the machine, we will organize the live demo for you to get a better understanding of the machine. After you purchase the machine, we will guide you how to operate the machine and tell you the daily maintenance for machine. We're constantly working on material such as blogs, videos to help customers get started and succeed in the embroidery business.
Is training included? What kind of training do i get?

We provide the manual book in the package and training video on our Youtube channel, we organize the online class every week, so that you can join it to learn with many other customers. You also can give us a call about the specified point you want to learn, then we will make a schedule with you and organize the live demo for you face to face.
What is the warranty for Smartstitch machine?

We offers a 1 Year Limited Warranty. Includes parts and labor and does not include shipping costs or travel expenses.
What is the average delivery time for a Smartstitch machine?

We support warehouse to doorstep delivery and self-pickup services. We provide 7 days warehouse to doorstep shipping, you will get a tracking number after delivery.
What can I do with Smartstitch embroidery machine?

Smartstitch embroidery machines can be used in various fields, such as fashion, home decoration, shoes and hats, bags and other industries.

They are suitable for different materials including cloth, leather, plastic and more.

Users can design embroidery and customize various patterns and characters according to their needs.
I'm a newbie and i only use a single needle embroidery machine before, how to start?

Please don't worry. We provide lots of video for you to get start. And we will make sure you have no worries from unpacking, threading, cap embroidery, daily maintenance etc. until the machine works successfully. We offer great online-service, you can simply give us a call, we will arrange a demo for you to learn the part you want to know.
Does it provide software?

We are sorry that we haven't provided software yet. But we provide some videos to teach you how to use free software named Inkscape (Inkstitch). The video includes basic pattern designs, for advanced pattern designs, we suggest you can find a special designer to make design for you.
Is it heavy to move? How am i carry the machine to my house?

Usually, we will tell you the time when machine arrives, we suggest you unbox the package outside, and carry the accessories to your house, then it needs two adults to carry the machine head to your house since the machine head is 90 Kg. After that,assemble the stand according to the video, then put the machine head on the stand.